By Josh Kirby: josh@kirbyonsports.com
With summer winding down that can only mean one thing, football is making a return across all levels including the National Football League. Recently I had the opportunity to make a few trips to Ashburn, Virginia home of the Ortho Virginia Training Center at Commanders Park. With the recent change in ownership headed by Josh Harris, I was eager to see what training camp was like. As many fans know last season was a little different and fans had to enter into a lottery system for a chance to get picked to attend training camp but for this season free tickets were made available to the general public via SeatGeek. In this article I will mention some of the key experiences and additions that I thought made training camp really enjoyable.
Parking/arrival
The Commanders announced that Dulles Town Center was the parking lot that fans needed to use for training camp. Obviously if you have been to Commanders Park you would know that if there were free tickets up for grabs on SeatGeek there was a high chance that there wouldn't be enough parking on-site to accommodate all the fans and with Dulles Town Center only a six minute drive from the complex it looked to be a win win situation not to mention there were busses that took fans from the town center to Commanders Park, I have to give credit to whoever was involved in that decision making process because I don't think the old ownership would have done anything like that. Upon arrival to Commanders Park entering was very stress free, the team did allow backpacks and coolers with drinks except for glass and any alcoholic beverages but even with drinks, bags and coolers allowed, the bag check station at the entrance didn't hold up the line at all, you just have to show your ticket at the main entrance on the wooden steps and thats all, very smooth getting from Dulles Town Center to Commanders Park with no hiccups.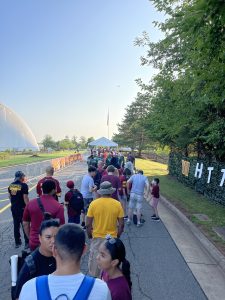 The Experience during Camp
Looking at what transpired shortly before training camp with the sale of the Commanders I could certainly feel a different type of energy. Fans could feel it, media could feel it there was just something really different. If you were in attendance last season or the season before you could probably see the big noticeable difference as the team had a full set of bleachers for fans to use along with a handicap accessible viewing area, some other amenities that were available for spectators included a team store, food trucks, water stations and cooling tents. All of this stuff that I just listed was not available for fans in previous years under the old ownership, I must give massive credit to all involved because there were some very hot days where the use of cooling tents and water stations was really needed. After each practice that I attended, players and coaches were generous with their time in terms of taking pictures and signing autographs for fans and after practice wrapped up busses would start lining up to take fans back to Dulles Town Center and as mentioned earlier there were no hiccups in the return back to the town center either.
I highly suggest if you didn't make it out to Training Camp this year that you should try and make it out next year, I don't know if any changes will be made to make it even better next year but I am really looking forward to seeing what changes if any will be made.